Line 6 POD 2.0 and POD X3
The Line 6 POD is a digital amp modeling device with built-in speaker cabinet / room acoustics emulation and some basic effects. It can be used to play direct through a PA or into a recording device (like I do with my computer), or it can be used as a tone-shaping front-end for a dedicated guitar amp. I've used it both ways, but where it really shines in my eyes is as a direct box, because it is so easy to get good tone. I don't have to bother with setting up a decent microphone to record a cranked amplifier, and my wife and neighbors are certainly happy about that. For my first 20 videos or so, I used the POD 2.0. I purchased the POD X3 in August of 2008 and have used it for videos starting with my "Frostbite" cover (Parkway Drive). The X3 improves upon some of the old amp models and effects and offers a TON more. It also lets you process two completely independent signal paths and blend them together. For Christmas 2008, I received a Line 6 FBV Express foot pedal controller for my POD X3 (thanks Mom and Dad!). It lets me switch among 4 tones in the current preset bank and has an expression pedal for wah effects and volume control. It also indicates the delay tempo via a flashing LED and includes an LED tuning display.
Guitar tone junkies will often dismiss anything that doesn't have an all-tube power section, but the truth is that most people can't tell the difference between the tone from the POD and that of a $2000 tube amp, especially when it is mixed in with all of the other instruments. Many people have told me that my tone seems to match the original recordings very well, and they are curious about my settings. There's nothing special about the settings on my POD 2.0. For the most part I'm always using the "Rectified" amp model (now called "Line 6 Treadplate"—copyright issues maybe?), which was Line 6's first attempt at simulating a Mesa Boogie Dual Rectifier amp, for distorted tones, and the "Line6 Clean" or "Twang" amp models for clean tones. In most of my videos using the POD 2.0, I am using the "Line6 4x12" speaker cabinet emulation. In some of my earlier videos, I bypassed the speaker cabinet simulation, and the result was a very harsh and fizzy tone. Some people liked this sound, but just as many people thought it sounded terrible. I now much prefer the sound with the speaker cabinet simulation turned on, because the recorded tone blends in much better with the original recordings.
If you'd like detailed information about some of my presets on the POD or would like to download the tone files to transfer to your Line6 device (if compatible), then please visit the POD Settings section.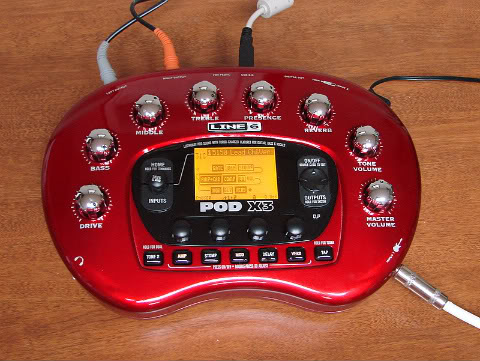 My Line 6 POD X3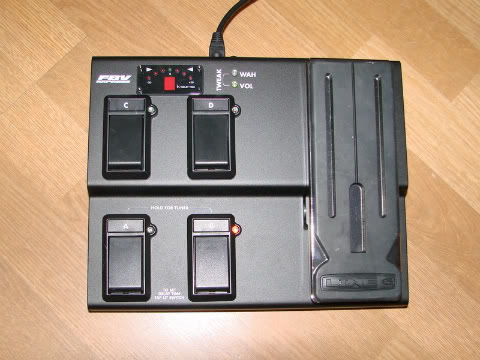 Line 6 FBV Express Pedal (used to control my POD X3)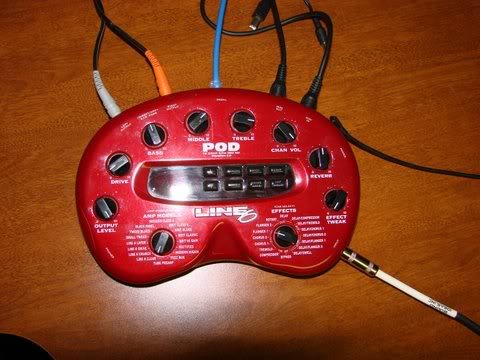 This was my Line 6 POD 2.0. I sold it shortly after getting the POD X3.